News • cvg en
9 restaurants with food that's both healthy and fast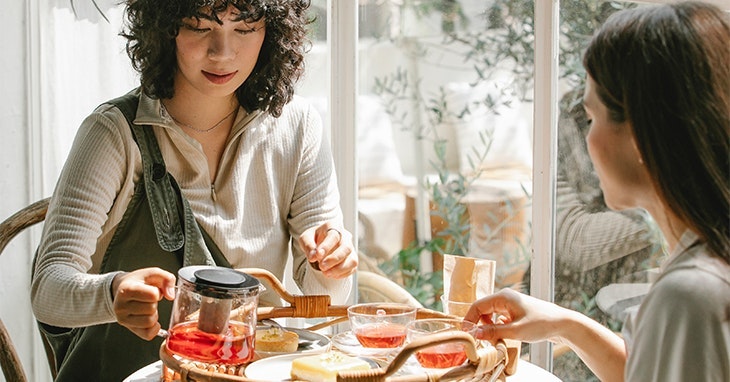 If, when visiting our centre, you are doubtful about where to have a light and healthy meal, we'll show you where.
Gone are the days in which we followed all types of diets by the letter and, let's be honest, their days were numbered. Nowadays we prioritise healthy food, without ruling out our favourite dishes. And now that Summer is coming, its only normal to consider our nutrition and being in shape for the days ahead at the beach. In this article we show you where, at our Centre, you can keep a healthy and balanced diet. We look forward to your visit!
Loja das Sopas (The Soup Shop)
Nothing like starting a meal with a nice, comforting bowl of soup? Then our Soup Shop is a mandatory stop for you and a great choice for those who haven't got a lot of time but prioritise healthy food. There are different creamy soups, light soups, gourmet soups, broths and stews every day, all made with seasonal produce. To complete the offer there are also tuna, cottage cheese and chicken sandwiches as well as varied salads and crepes with the filling of your choice.
Specialists in Mediterranean fusion food, this restaurant is well-known for its delicious original pita Shoarma, its grilled dishes, its colourful salads and its vegetarian specialties such as wraps or pitas. The vegan hamburger made 100% artisanally, or the falafel pita, with its chickpea paste balls (falafel) cooked in a special herbs mix, accompanied with tahini or aubergine with tomatoes are some of their most requested delicacies. Come and try them!
Focussed on the quality and freshness of their ingredients, Pans & Company are experts at sandwich making, from the most rustic in crispy 'crystal' bread, to the healthiest with wholegrain bread, filled with roast chicken and yogurt sauce, cottage cheese or tuna. For those who really want to avoid bread in their lives, there are quinoa salads, avocado and salmon salads – colourful, nutritious and of course, delicious.
If you've got a crush on oriental cuisine but don't want to lose focus on balanced nutrition, at Wok to Walk you will find a generous variety of ingredients to compose healthy dishes, made at the moment, right in front of you. Start by choosing a noodle base with vegetables or eggs, wholegrain or rice, then pick a cereal between quinoa, gluten free, rich in protein and omega 3, or wholegrain rice, crunchy, full of vitamins and fibre. Next choose between shrimp, tofu, shitake mushrooms or bamboo shoots which will then be enveloped in a sauce: sweet and sour, light soy, green curry or oyster. Finally, finish off your dish with a topping of cashews, peanuts or cilantro. The choice is yours!
If a nutritionally balanced diet is a daily concern of yours, Vitaminas is a good ally for you. The brand bets on quick hot or cold meals, always made at the time and with low calorie ingredients such as vegetables, fruit, cheeses, pasta, white meats, fish and cereals. The menu is filled with combinations such as soups, fruit juices, salads, sandwiches and light desserts. You can choose from the suggestions presented by a nutritionist or, if you prefer, you can put together your own dish according to your taste, by picking out your favourite ingredients.
Go Natural chooses fresh, seasonal, local ingredients, increasingly including organic produce in their recipes. Between soups, pastas, low carb meals, sushi, sandwiches, wraps, fruit, functional fruit juices, desserts and healthy snacks, Go Natural launches about 40 different recipes a year. The soups have no potatoes and the restaurant bets on salt reduction, choosing to use aromatic herbs or spices instead, as well as on sugar reduction opting for alternatives such as honey, fruit juice, stevia or dates. Go Natural dishes are ideal for everyone: no gluten, no lactose, no dyes or artificial preservatives, catering to vegetarians, vegans or low carb diet followers.
The piadinas (Italian flatbread), salads, toasts and wraps are the stars of this Company (Companhia), which bets on carefully selected ingredients, respecting wildlife and the environment. Chicken and mushroom piadinas or tomatoes with mozzarella, exotic salads with sautéed shrimp, tomato, mango, cottage cheese, roasted almonds, balsamic vinegar and fusilli are just some of the dishes you will find.
At this Italian restaurant you will find delicious menus with flavours inspired by Mediterranean cuisine. If you prefer, you can 'make your own' pasta by choosing from the available ingredients, which among the healthiest options include wholegrain or courgette spaghetti and rice tagliatelle. Next, you can pick your toppings from fish, vegetable and fruit options.
At our Centre's Celeiro (Barn) you will find a meal space filled with healthy options. The brand's dishes are low in salt and fat and use mostly organic ingredients and wholegrain, fibre-rich products. Here you will also find 100% natural fruit juices and, amongst the brand's most recently launched meals are the tofu palak, the lentil moussaka and quinoa and chickpea burgers. The great majority of dishes are vegan and made with gluten-free ingredients.
Publication
09 November 2021